Log in to Aspen iProperty® Mobile.
Enter the work order details. Required fields are marked with a red asterisk. Questions will vary according to the type of work order, and your responses may be recorded using radio buttons (multiple choice questions where you select just one option), checklists (select all options that apply), or free text fields (enter whichever text you choose). If voice-to-text functionality is enabled on your device, you can click the microphone icon on the keyboard that appears when you enter a free text field.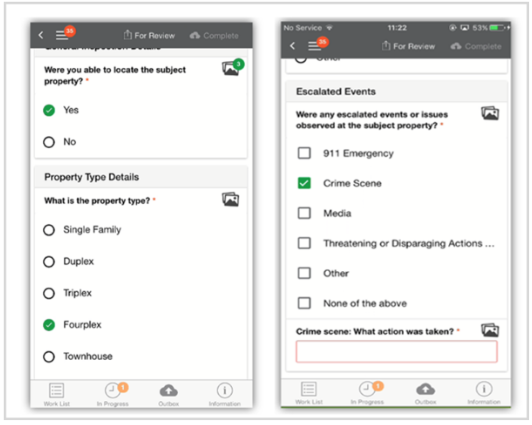 Note: Take note of any Special Instructions at the top of the screen.
Take photos to add to the work order, if required. Select the image icon next to the relevant question. Click the camera icon in the page that opens to start taking photos. The date and time the photo was taken are stamped on each photo.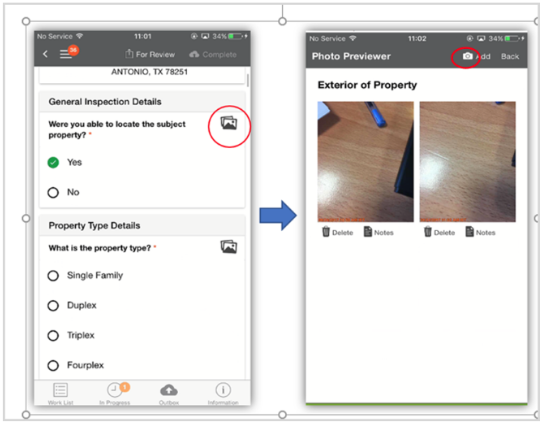 Note:
If you do not select
For Review
, your work will auto save on your device, but it will not transfer to
Aspen iProperty®
.
Note:
To remove a work order from
In Progress
status, touch the green clock icon next to it. This does not delete any work completed on the work order.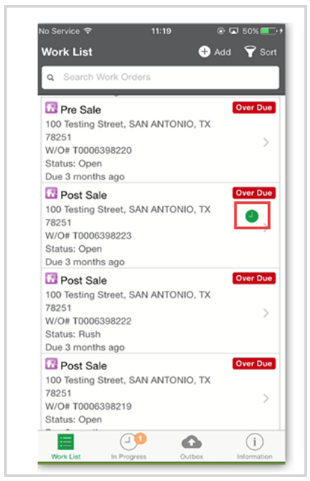 Review the work order. Refer to the
Review and Save
section to see the number of photos taken, their total size, and whether the work order is complete. Questions with missing responses are highlighted in red.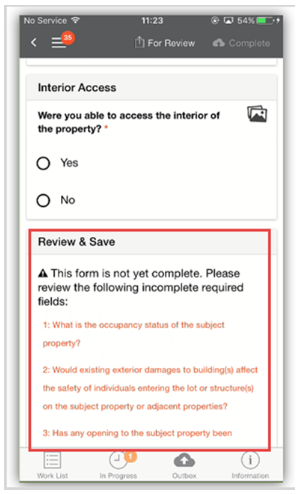 Navigate to questions with missing responses either by scrolling down the page and selecting the relevant question or by tapping the number in the top left-hand corner of the screen and selecting the question you wish to answer.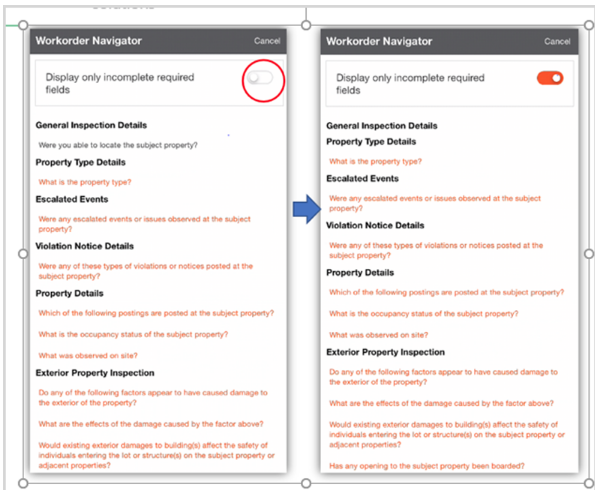 When you have entered all the required details, the Complete button will appear dark green. (It will remain light green until the required fields are completed).
Click OK on the confirmation message displayed. (Clicking Cancel brings you back to the work order, which you may continue to work on).
The completed work order is uploaded and may remain in your outbox until your device is connected to a Wi-Fi network or plugged in, depending on your settings in the
Information
tab. Otherwise, the app uploads the submitted work order for completion over an available 3G or 4G network. The completed work order is submitted to
Aspen iProperty®
for the client to review. You may return to the work order list by selecting
Work List
in the bottom left corner of the screen or clicking the back arrow in the top left corner of the screen.