How to Submit an Expense
Step 1: Navigate to the Property that you wish to submit the expense on in your Aspen iAgent® account. Locate the property by Address or Loan/Asset number and view the property details page.
Step 2: Click on the Expenses tab within the property

Step 3: Click on Add Expense in the Actions menu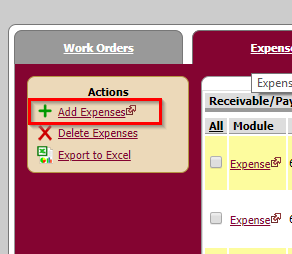 Step 4 : On the new expense window fill out the fields with all the relevant information. *All fields with a red asterisk must be filled out
If you need to attach any documents to the expense, scroll down to the section labeled Required Documents and click on the Browse button. When you have completed the Expense, click Save if you just want to save the data and return to it at a later date. Click on the "Submit" option if you want to submit the expense, or you can click on the "Cancel" option to close the task without saving any information.
Once you submit the expense, the status will change from "Submitted for Payment" or "Approved" status. If the status of the expense reads Pending, that means it was not successfully submitted for payment and the client has not received it so this does require action to complete.
Regular expense vs. Pass Through expense
The Aspen iAgent®. expense system is set up with three options for logging expenses.
An expense that you have paid and you want to be reimbursed for is a Regular expense. Select the Vendor name from the Payee drop down box but it does not feed over to your client for a Regular Expense. They pay whoever they have in their system showing as the Payee for your organization.
If you enter the expense with the type as Regular, then it will require a proof of payment to be attached in addition to a copy of the invoice, since type 'Regular' indicates that you have paid the vendor directly.
If you want your client to pay the vendor who did the work directly, you would submit the expense as a Pass-Through and select the vendor you wish for them to pay, a copy of the invoice is required.
If you want to keep a record of expenses you have paid for yourself that you know are not reimbursable, you would enter them as unreimbursable. This will help you to have a record for your own business bookkeeping.
Status of Expense
Expense Status -- Status Definitions
Submitted for payment--Invoice is pending AP review.
Vendor Validation-- Information regarding vendor has been requested.
Rejected-- Invoice has been reviewed and rejected by Accounts Payable. Check the Reviewer Comments for explanation and details.
Accepted--The invoice has been reviewed and IRS Form W-9 information is pending verification.
Pending Payment--The invoice is pending a secondary review by AP.
Pending Client Review--The invoice required has been routed for additional approval.
Client Paid--A check has been issued.
Pending--The invoice has not been submitted to PAS. (If this invoice requires payment, you will need to submit the invoice to PAS.)
Pending Expense
If your expense is in the pending status it is pending further action from you. Your client is not able to view this expense until you have successfully submitted it.
Note: as long as the submit button is present it is requiring further action from you.
BLACK PENDING: Warning – acknowledge the warning and then submit
If you receive a "Warning" message, the expense will not be submitted unless you acknowledge the warning by selecting "Submit" again.
RED PENDING: Error – amend the error and resubmit
If you receive an "Error" message, the expense will not be submitted unless the error has been resolved.
NOTE: If you receive an error message when submitting- make sure photo uploads don't have any special characters in the file name.
When uploading photos or documents in Aspen iAgent®, it is important that the file name does not contain spaces or special characters. Using spaces or special characters does not allow PAS the ability to open tasks or view photos.
Below are some unacceptable and acceptable file name examples:
• Unacceptable: # 123 Main%@.jpg or 123 Main;.jpg
• Acceptable: 123Main.jpg
It is not possible to remove vendors from vendor list.
Vendor addresses cannot be changed, you will have to add your vendor into your account again as a new vendor and send an updated W-9 form to PAS for them to update their records.
In order for PAS to successfully set up a new vendor in their system for payments, PAS will require a W-9 form showing the new vendor's payment information. Please send an updated W-9 form to PAS's payee header team at: PASPayeeHeaders@wellsfargo.com and request for the vendor to be set up for payment(s).
Rejected Expense
Once an expense is rejected you have to resubmit a new expense, rejected expense cannot be edited.
For more information on Expenses please refer to the Broker Procedures Manual in your Communications tab (Section 11: REO Property Expenses and Reimbursements Page 146).