How to Add a Contact
Contacts can be added to your Aspen iRecord® account; this is the first step in getting a contact ready for a background check submission.
Step 1: Enter Contact Details To add a new contact, go to the 'Contacts' tab. Click on the 'Add Contact' hyperlink from the 'Actions' box.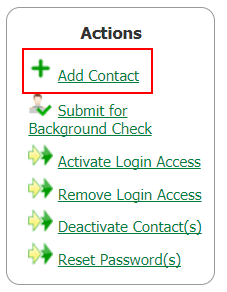 Note: All fields with a red asterisk (*) are required fields.
Step 2: Choosing Contact Access and Adding a Contact Photo
After entering the contact details, you have the option to allow this contact to have Aspen iRecord® and/or Aspen iProperty® Vendor Portal access login by checking the appropriate checkbox. Note: Any contact allowed to login to Aspen iRecord® will have full administration access for your account. This should only be allowed for those contacts who truly need this level of access.

The contact's photo is also required. This photo must be 200 x 200 pixels in size and in passport photo style (neutral background, normal expression, and no items covering their face).

If you will be submitting this contact for background check, a set of documents required by your background check company will be available to download which should be printed and completed by this contact.
To complete the contact profile, click the 'Add' button to save this contact's details. They will now appear in your contact list.
Step 3: Activating a contact's login access
To enable the contact's login, select the checkbox next to the contact's name, and click 'Activate Login Access' from the 'Actions' box.