To update your company address you will need to:
Step 1: Navigate to the Aspen iAgent® website at URL: https://iagent.aspengrove.net.
Once you are logged into your account, click on the "My Profile" tab

Step 2: Click on the "Edit Organization" option from within the "Actions" menu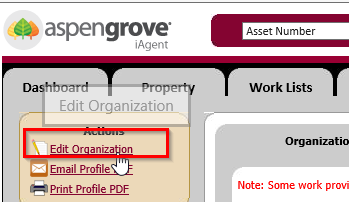 Step 3: Complete the "Organization Details" section with the correct details

Step 4: Scroll down to the bottom of the page and click on the "Update" option to save your details. You must fill in all the required fields in order for this page to save your newly entered updates.