You may be asked by your work providers to review your levels of compliance. Compliant work orders can be completed by contacts who are directly associated with your organization or contacts within networked organizations that you assign work to.
For contacts in your organization:
Click on contacts tab:

Sort by clicking on "Compliance expiration" column:

For those contacts that are still working with you (and expired, or expiring soon) click on "Expired - Resubmit" to renew their background check. Click here for instructions how to renew a background check.
For those no longer working with you deactivate the contact by following the steps in this article: How to deactivate a contact.
Where you assign work to a vendor outside your organization:
Click on the "Networks" tab:

Click on "My Networks" as highlighted above.
Search for your vendor by typing the name of the organization in the search bar and click "Go":

Review "Aggregated IC Statuses" column and check for the number of expired background checks. These may be causing you non-compliance. Send your vendors a link to this article and discuss the need for compliance.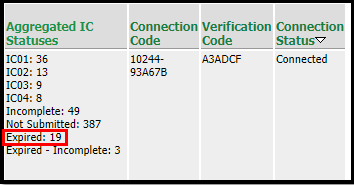 If you are assigning work to an individual who is not a contact in your organization or is not connected through your networks you should:
First confirm with them whether they have their own Aspen iRecord® account
If yes send them connection and verification codes to connect to your network (review article

creating connection codes

), then you can review their compliance as above
If no, discuss the best approach to get connected, either: