The Vendor Person will log into WorldApp to complete the Inspection. Once the work order is in an Accepted status in Aspen iProperty® Vendor Portal, they have the option to "accept" or "reject" the work order.
To "reject" the work order, they can click on the Reject Job button.

The status in WorldApp will update to Rejected.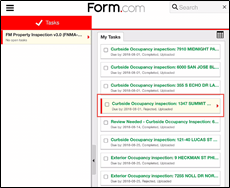 The Status in Aspen iProperty® will update to Declined.

Note: As the Work Provider, you can search for the Client Work Order Number in Aspen iProperty® by using the Description information (WorldApp UID (WAUID)) in WorldApp e.g. de2652f8.