Click on the Job Accepted button to accept the work order.
The application defaults to Job Accepted.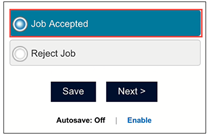 Select the Save button to save the work order. Select the Next to move to the next page and to complete the Inspection work order.
The Status in Aspen iProperty® will remain in the Accepted status.
The Accept action will fire off the trigger to WorldApp which will send the Vendor Person details to WorldApp. They will check if the user has a WorldApp account. If they do not have an account with WorldApp an account will be created for them, and the log-in details will be sent to the email of the Vendor Person. Details will include: Portal ID, Login details and a temporary Password.
Once the Vendor person has received his/her details they can log in to the Form.com mobile application and update their password to a secure password.
Upon synching the Form.com mobile application they will see the open Inspection work orders assigned to them.