The Form.com mobile application is what you as the Vendor Person will use to complete the Inspection work order questions and to upload the relevant photographs.
You will need to download the Form.com application onto your mobile device.
Enter the following information: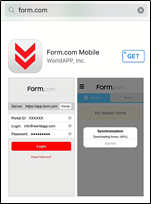 Upon logging in, you will need to update the password to a secure password.