Update E&O Insurance
Step 1: Go to this URL: https://iagent.aspengrove.net. Click on My Profile

Step 2: Click on Attachments in the Tab menu

Step 3: Scroll down to the "INSURANCE" section and click on "UPLOAD INSURANCE POLICY"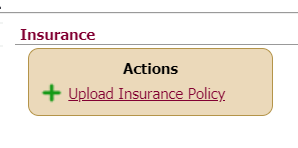 Step 4: Enter all your data in the required fields (fields with red Asterisk)
Step 5: In the "UPLOAD INSURANCE POLICY" field click on the "BROWSE" button to select your license document from your computer.
Step 5: Once all information has been added click on the UPLOAD button to successfully upload your license.
How to check when your Insurance expires
Step 1: Go to this URL: https://iagent.aspengrove.net. Click on My Profile
Step 2: Scroll down through your organisation summary
Your most recent Insurance will be listed here

Note: If your Insurance is expired, a notification will show on your Dashboard.