In order to change the Primary Contact you will need to log into your Aspen iRecord® account at aspenirecord.com and follow the steps below.
Step 1
Click on your Contacts tab

Step 2
Each number below indicates what that sections means:
1) Shows you who the current Primary Contact is on your account
2) Select who you want to make your new Primary Contact and put a check in the box
3) Click on Change Primary Contact to change the primary

Step 3
Read the pop up to verify what you are allowing the new Primary Contact to do and the access you are giving them, then click on Change Primary Contact.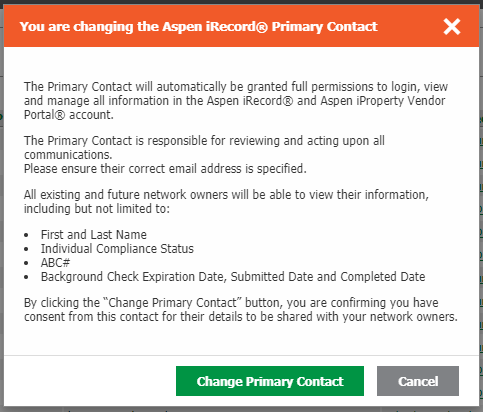 Step 4
Confirm the new Primary Contact is correct and click on OK

Step 5
Confirm that the new Primary contact is correct on your Contacts page

*Please note, you must be logged in as the primary user to change to the primary user to an alternate contact.
Last Reviewed & Updated: 04/2022