Aspen iProperty® Dashboard Overview
When logging into Aspen iProperty®, you land directly on the Primary dashboard tab.
The main Search bar is located directly above the five primary tabs.

To search using the main Search bar, click the arrow next to the Asset Number. A drop-down menu offers you several additional options to search.
Asset Number Address
Property Reference Internal Reference 1
Internal Reference 2 Client
Zip Code State
City Asset Manager
Task Reference Client Work Order Number
Reference ID
Options are located in the upper-right-hand section of your screen:

Setup is where you will Add or Import your Properties and Organizations
Cash Flow tracks your accounts Payables and accounts Receivables for expenses
Reports houses a library of system generated reports that are generated by clicking on the report Link.
Options includes:
My Profile My Bill
Change Password Business Rules
Notifications Agent Assignments
Regions Roles
Teams Vendor Assignment
Property Assignment Rules Services
Manage Services Pricelists Manage Work Order Pricelists
Pricing Policies
Help is where you view user guides and contact our customer care center.
Log Out logs a user out of the Aspen iProperty® system. Social media links are available for quick and easy access.
Use the Property tab to search for a property in a variety of ways.
Use the Work Lists tab to assign work orders to your network of team members and contacts.
Use the Notes tab for a list of your sent and received communication for properties you are managing, as well as system-generated messages.
Use the Address Book tab to search for clients, vendors and investors.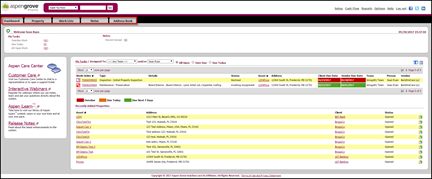 The Welcome Section
The Welcome Section of the Dashboard alerts you to any new activity in your account.
The Refresh button

is located next to your welcome name displayed.
The My task section shows your Overdue work, Due today and All open work. The Notes tab allows you to view any recently added notes. By clicking the number link you will be directed to the Notes tab to view your newly added note(s).

View work orders that are assigned to a team (or anyone) within your organization. You can sort the work orders, by clicking the radio buttons for All Open, Overdue and Due today.
All overdue work orders are highlighted in red; Work orders due today appear in orange; and green identifies work orders due in the next seven days. Click the calendar icon

to view the work orders in calendar view.

The Recently Added Properties section displays your ten most recently added properties. As you add new properties, you will find the oldest properties will drop off of your top ten property list. Click on the Status History icon
to view the status history of a property from the Status History sub-tab at the property level.

Aspen Care Center
Aspen Care Center options include contacting the Customer Care Center for assistance, Interactive Webinars, Aspen iLearn™ for your training courses, and Release Notes to keep up to date with any new enhancements.