How to Add a Contact
Contacts can be added to your Aspen iRecord® account; this is the first step in getting a contact ready for a background check submission or for setting up a user for Aspen iRecord®, Aspen iProperty® Vendor Portal, Aspen iProperty Mobile℠ or Aspen iMobile®.
Step 1: To add a new contact, select the Contacts tab. Select Add Contact from the Actions menu.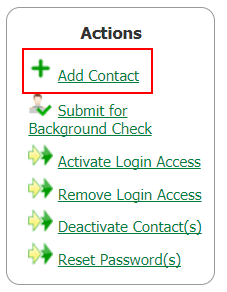 Note: All fields with a red asterisk (*) are required fields.
Their photo is also required. This photo must be a passport-style photo (neutral background with a normal expression, and with no items covering their face). It should not exceed 5MB.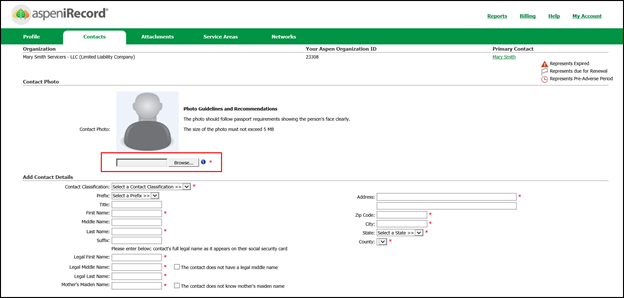 To finish adding this person, click the 'Add' button to save their details.
More useful articles
For instructions to submit this person for a background check, click here
Instructions to set this person up as a user for;
Aspen iRecord®, click here
Aspen iProperty® Vendor Portal, click here
Aspen iProperty Mobile℠, click here